Dave Abbotts - Clay and Game Shooting Coach
Clay pigeon shooting sometimes know as clay target shooting and originally known as Inanimate Bird Shooting is the popular and growing sport of shooting flying clay pigeons (targets) with a shotgun.
A lot of the terminology still used today comes from the past, when live-pigeon competitions were held. Although such competitions were made illegal in the United Kingdom in 1921, a target may still be called a "bird", a hit may be referred to as a "kill", and a missed target as a "bird away"; the machine which projects the targets is still known as a "trap".
It is a great sport that can be enjoyed by everyone, regardless of age or ability. Men, women and children can compete together on equal terms. Parents and children alike can shoot together, spending time in the great outdoors, enjoying the shared challenge with a little competition on the side. It is an ideal family activity.
It's safe, exciting, challenging and fun. Hitting the target requires skill, timing and hand-eye coordination, but there's nothing quite like that feeling when you pull the trigger and see the target explode into pieces!
You can enjoy clay shooting at any level, from club shooting just for fun through to national and international competitions and even the Olympics.
You'll find that people who clay shoot are friendly and it is a sport you will be welcomed into. Beginners are welcomed at shooting grounds all over the country. You could find yourself shooting alongside a complete beginner or an Olympic champion.
Is clay shooting a sport for you? There's only one way to find out - give it a go!
Clay Shooting Instruction
Lessons are structured and cover gun handling and safety, the importance of foot work, posture, gun mount and swing. The different techniques and methods of setting yourself up and addressing the target, together with advice on equipment and gun fit. Starting with lessons to avoid instilling bad habits reaps benefits later.
Game Shooting Instruction
A series of lessons can put someone struggling with their Game Days quickly on the road to becoming an average game gun on the way to be a better than average shot. Working on a clay ground gives you the opportunity to repeat targets and work on your style and technique. It will equip you with what you need to know for your game days.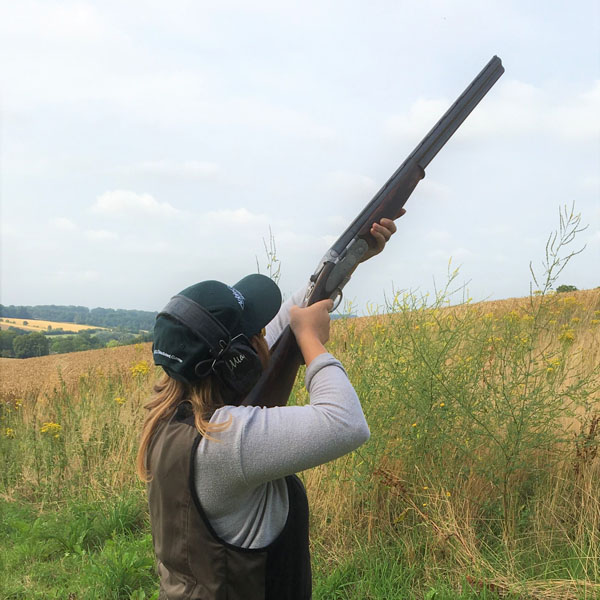 In-The-Field Game Instruction
In-the-field shoot instruction is for those of you who prefer a little more of the real thing. I can collect you and drive you to and from your shoot or meet you there and give you some in-the-field instruction. If you require I can be your more than competent, loader for either single or double gunning.
WHAT MY CUSTOMERS' SAY
I had my first lesson with Dave and his calm relaxed approach and way of explaining things is very easy to understand. I really enjoyed my first lesson and am looking forward to more.
Paul Johnson, 1st December 2019
Thanks to Dave for a lovely morning shooting. As a group of beginners your guidance was greatly appreciated, and we all had a great time. We all look forward to our next time shooting.
Jane Smith, 13th November 2019
I Started to learn to shoot with Dave in September 2017. Since then I have shot at several shooting grounds and have enjoyed simulated game days and also driven days. Dave is very knowledgeable and is patient while coaching and I have benefited greatly from his approach.
Mia Taylor, 19th October 2019
ACCREDITATIONS